Allround
Acord II
Ahorn Z
Almez Z
Heureka Z
Ribeka
Calypso I
Gerlis
Irada
Sir Shostakovich
Rheingold
Sinful
Elite I
Capitol I
Zajana
Saskiacara
Ahorn Pref

Nimmerdor
Farn
Patty
Hyazinthe
Silvano
Puissance
Carrycara Keur Prest
Le Mexico
Mexico
Peche Melba
Ursiecara
Lucky Boy xx
Jessycara Keur
Tarkan (SSH Licensed)
(Lady Cara-stam, Merrielijn 98, fokfamilie 705)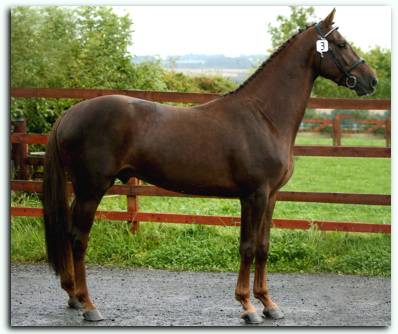 Licensed in 2010 at the Scottish Sports Horse Gradings, this young son of the Holstein stallion Allround is showing excellent scope and promise in the show jumping arena. He has double clears in British Novice, Discovery and is now jumping Newcomers.
His Dam Saskiacara showjumped with success at national level prior to becoming a broodmare. His older brother Ingliston Wicker by Silverstone, currently competes at International level in the 1.40m classes.
Tarkan has already been a consistent producer of high scoring progeny at the Scottish Sports Horse Gradings, his son Sharkan out of the the homebred mare "Sophius" by Clarius was the highest scoring foal presented in 2013 obtaining 75% for conformation and 80% for walk trot and canter. His son "First Edition" also obtained high marks with an overall score of 75%.
£100 Booking Fee + £300 Oct 1st Terms fresh chilled semen only.
Allround Approved by the Scottish Sports Horse he commenced his International career in the six year old World Championships in Lanaken. Ridden by Adolfo Pacheco he placed 2nd in the 1.40 CSI *** Zuidlaren. With rider Cayetano Martinez de Irujo he placed 5th in the 1.45m CSI5* Stuttgart.
Ahorn The Preferent stallion passed away much to early while he was one of the top producers of sport horses both in Holland and abroad. Approved in almost every studbook, he produced champion mares and too many International level jumpers to list including Scot Brash's current ride Ursula X competing at the highest levels.
Carrycara KWPN (Ster Prestatie) Lady Cara-stam, Merrielijn 98, fokfamilie 705
Progeny from this damline include the KWPN approved stallions Elcaro, Kalief, Monaco as well as the Belgian approved stallion Lucky Him Van Het Vijverbos. Decendants have shown good success in sport predominantly in dressage.
Le Mexcio A son of Mexico, full brother to Furioso II. Le Mexico was one of the foundation stallions that shaped sport horse breeding in the Netherlands. His father Mexico served in the French National Stud where he became the sire of showjumpers such as Rambouillet (Grand Prix, Vienna), Rush du Camp (Olympic Games, Mexico City) and Jexico du Parc (Olympic Games, Los Angeles). As a resident of Holland, he produced the approved stallions, Silvano and Ulft.