Marius Claudius
Concorde
Voltaire
Furioso II
GoGo Moeve
Flyer
Marco Polo
Klaske
Icara
Nimmerdor
Farn
Ramonna
Anoesacara
Legaat
Selmacara
Linata
Glennridge

Wellington
Nimmerdor
Patty
Aziemieka
Silvano
Puissance
Crenata Keur
Tolbert
Erdball xx
Milea
Miranda Ster Pref
Uppercut
Delly Ster
Clarius - SSH Approved
(Merrielijn 101, fokfamilie 71)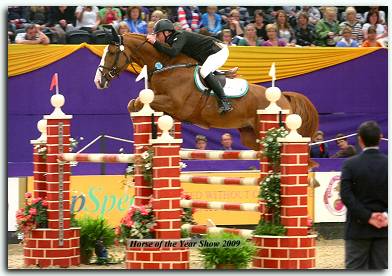 Homebred Clarius obtained a first premium as a foal and was licensed with the Scottish Sports Horse in 2006. Based on his success in competition and as a consistent producer of high scoring first premium offspring, he is currently the only stallion to obtain APPROVED status in recent years having successfully fulfilled the requirements of the stud book in a very short time frame,
This proven stallion although only lightly jumped in 2009 was 2nd in the Scottish B&C Championships, 4th B&C Royal Highland Show: 6th in the National Grade C Championships and 5th in the Foxhunter Final at HOYS.
Clarius was the Best British Bred Stallion at Addington Young Horse Championships where he was 3rd in the six year old young horse Championships which earned him his place in the six year old final at HOYS. As a result he was selected for the Young Horse Championships in Lanaken.
Rated by professionals as a Grand Prix horse he was selected for the BEF Pathway Scheme for future world class horses.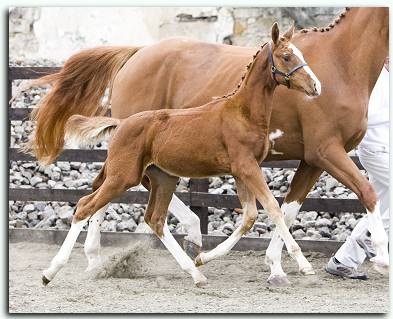 Clarius also has tremendous paces and would be an excellent sire of dressage horses with his powerful and ground covering canter.
Sadly his career was brought to an end due to injury but continues his breeding duties, consistently siring high scoring 1st premium foals. His eldest offspring are now showing excellent scope under saddle and are renowned for their exceptional trainability and willing work ethic.
£100 Booking Fee £600 Stud Fee Oct 1st Terms Fresh & Frozen semen available.

Marius Claudius Ridden by Robert Smith, winner of the AON Six year Old Show Jumping Championship and Foxhunter Final in the same year at HOYS. Aged Nine he competed in the World Cup in Las vegas. Throughout his career he competed in numerous Nations Cups travelling extensively throughout the world until his retirement to stud in France.
Concorde Winner of the 1990 National Stallion Championships and Olympic Silver Medalist in Barcelona with Piet Raymakers. he continued his career with Jos Lansink winning the Grand Prix of Nordrhein-Westfalen at Aken and Champion of the Netherlands in 1994. They placed 2nd in the Grand Prix of Amsterdam, 2nd at Darmstadt, 2nd at Lanaken, 2nd at Helsinki and 2nd at Gothenburg. His progeny compete with success at the highest of levels. (Photo Sophius 1st premium filly Clarius x Balou Du Rouet)
Glennridge (Keur) passed away at the age of ten. Prior to his demise he had good results in competitions at the highest level. He was the VSN and KWPN stallion selection Champion. Results include 1 st Grand Prix Kossen, 4th Grand Prix Geneve, 3rd Grand Prix Munchen, 1st Stallion competition Den Bosch, 7th World Cup Amsterdam, 4th World Cup Oslo, 2nd World Cup Brussel. His offspring are also very successful at International level.
Nimmerdor The Preferent stallion Nimmerdor is the foundation stallion of the famous VDL Stud in the Netherlands. After an international career as a showjumper, Nimmerdor was a major influence on international sport horse breeding. He sired 18 KWPN approved sons including Ahorn, Wellington, Goodtimes Heartbreaker and his 39 approved KWPN grandsons, the Keur Preferent stallion Emilion, Farrington, Glennridge, Kalusha, Londontimes, Matterhorn, Ohorn, Pacific, Radisson and Sydney. Across the whole world Nimmerdor has more than 40 approved stallions. Due to the performance results of his offspring Nimmerdor gained the "Preferent" predicate. As a reward to his enormous work he was honored"stallion of the century" in the year 2000. In march 1999 Nimmerdor stopped breeding to enjoy his retirement. On 25 april 2003 Nimmerdor deceased, he became 31 years.
Linata Clarius's dam stems from the mareline 101 that produced the KWPN approved stallion Aram and Neon as well as the stallions Koncorde by Concorde approved by the Brandenburger Stud Book and Beobka by Upgrade approved with the AES. From this damline comes many International competition horses in both dressage and showjumping such as Soufleur by Welt Hit II and Ogami by Cabuchon in dressage and Gitane By Ahorn and Wendurgane by Nimmerdor in jumping.